Portable Restroom Rentals in Miami provide an upgraded alternative to traditonal event toilets and jobsite johns. With AC, heat, running water sinks and flushing porcelain toilets, they are the closest thing comparable to your bathroom at home. With our platinum Elite edition restroom trailer your guests can experience the most luxurious surroundings available in mobile (portable) restrooms. Described as a fusion of chic elegance and contemporary flair, this very popular restroom is elegant, comfortable and a much better alternative to having porta-parties at your event!
Just a few testimonials from our happy clients.
"Our 40th birthday celebrations were fabulous, and I have to tell you that one of the highlights, according to our guests, were the toilets! Everyone raved about how great it was to be able to use such wonderful conveniences. So we just wanted to convey our thanks, and those of our guests, and tell you, that we would have no hesitation in recommending your Company in future."
Mr. and Mrs. D. Baker
"We never underestimate the disproportionately large effect good toilet facilities have on our customers, and I must say the unit delivered was immaculate, drawing very favourable comment from a number of guests on the day. I must also thank the gentleman who actually delivered the unit, he had to work within a very tight window of opportunity, and managed to remain polite and helpful in the face of misinformation and general unhelpfulness from the officials."
Mr. B. Bailey
Thank you so much for decorating the Las Olas Ballroom at the Westin Beach Resort and turning the room into an evening of elegance. Because of your attention to detail I will have memories that will last me a lifetime. As I stepped out of the limousine and saw the red carpet into the ball room, the night suddenly became magical. My guests commented that their experience was most memorble. The tropical night theme you created for us was a great idea being that the ballroom faced the Atlantic Ocean! Thanks so very much. It was incredible! ~ The Stuart Family 50th Wedding Anniversary
Restroom Rentals
for Rent
Professional delivery to
MIAMI FL
and surrounding areas. Please submit a quote or contact us to be sure we service your area.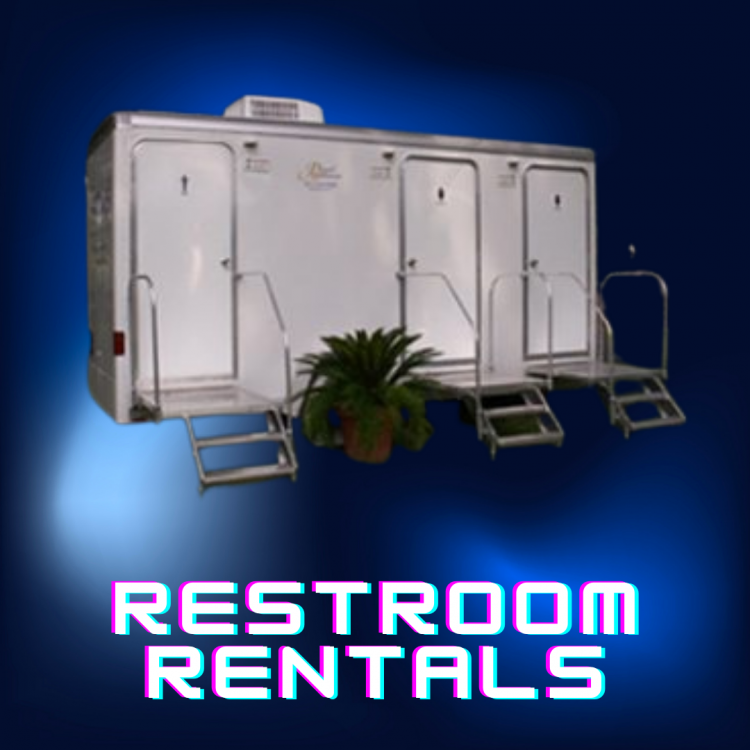 3 Stall Restroom Trailer
from $995.00